Coronavirus 2020 - The Surprise Winners
In these uncertain times we've all been staying home and with varying degrees of success, trying to continue life as normal.
But how has life continued for businesses? While many are struggling, some select few have been the unexpected beneficiaries from the side-effects of all this, but whom?
1. Dating Apps - All the Lonely Hearts
Isolation has lead to a huge increase in usage for dating apps. All those lonely hearts sat at home, swiping away!
It may be a while before a full return to normality. Many apps, such as hinge,  have even pivoted to include features in the app to make it easier to "date-from-home".
Gen-z even took it to new heights with this uncouth story of "meet-cutes" in the tik-tok age:
2. John Hopkins
An oddly specific example but as a data-scientist I was really impressed by John Hopkins succinct summary of data in their online dashboard. Their dashboard and reporting is definitely a winner.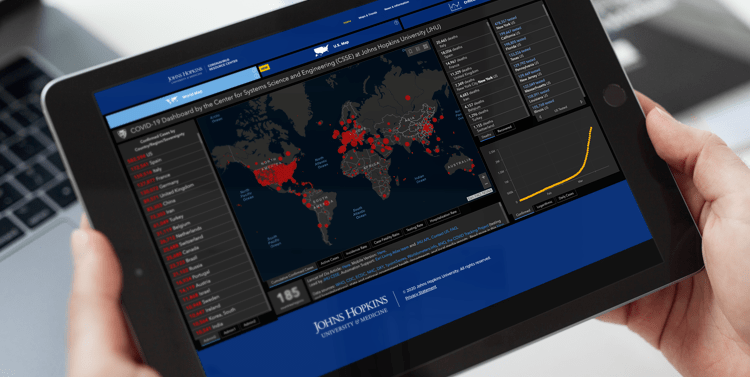 Unfortunately the current economic climate is also expected to hit the university hard. They're "expecting layoffs and furloughs due to the economic impact of the pandemic".
3. E-Scooter Companies
With reduced service, mandated masks and confided spaces, public transport is no longer the glamorous bastion of democratised mass-trasnportation that it once claimed to be. Many would-be commuters are lucky enough to still be working from home, but for many others they're looking for new transportation options. Whether you love them or hate them, renting electric-scooters could very well prove a cheap, safe and efficient option.
We'll still have to wait and see how all of this plays out and how we handle the unexpected consequences and negative externalities of streets that are littlered with scooters. Providing they survive COVID-19 could prove to be a catalyst that speeds onwards the e-scooter revolution.
4. Doomsday Bunkers?!
Increased fears around public safety and the future of society has people stock-piling and running for the hills. While it's surely a luxury plan to have not only a home but also a post-appocalypse-back-up-home, these aren't only for the ultra-rich but also the pretty-rich too.
5. Content Creators
YouTubers may have to work within the constraints of social-distancing and lockdown but if they are still able to churn out content they'll have more people than ever waiting at home to add views to those videos.
6. News Outlets
Similar to influencers, major news outlets are also seeing an increase of "eyeballs" on the pages. It's not necessarily the healthiest or most reassuring behaviour but naturally we're all keen to find out what the current situation is vis-a-vis the global pandemic, and where's the first place we turn, the news.

On the flipside, consuming too much news about things outside of our sphere-of-influence can be anxiety inducing, with it's own negative impacts. Stay up to date but remember to be moderate. Turn off after a while and focus on positive aspects of life and being present with those around you.
7. Home Office Setups
More people working-from-home means more people kitting out their home-offices. Fancy desks, comfortable chairs and large monitors abound. Many shops are even out of stock. If our home offices becomes too nice though, will we ever want to return to our actual offices? 🤔
Many big firms have finally acknowledged this and are embracing the working-from-home revolution, promising to allow employees to work-from-home forever. It will be interesting to see how this pans out in the future, given the option some people might just prefer to work from home indefinitely. Perhaps we'll never see, or be seen, by some of our colleagues again... Let us spare a silent thought for the introverts.
8. Remote Working & Productivity Tools
Communicating while working-from-home is one thing but what about remote collaboration? Luckily we have tools like Basecamp and Atlassian owned Trello. With both companies looking to have made considerable revenue from an uptick in business during these increased times of remote-work.
It's not the same as face-to-face communication but good collaboration tools can be even better than having to be with someone physically. Tools like virtual scrum boards and interactive notetaking apps to help replace collaborative white-boarding.
9. The Environment
During lockdown we've seen a huge drop in CO2 emissions and pollution due to numerous policies and a marked decrease in travel and transportation. On average an estimated 17% decrease in global CO2 emissions (according to research published this week in Nature Climate Change.)
But is it too little, too late?
10. Online Classes 🧘‍♀️
As a multitude of regular, and some more novel, activities have moved online, barriers for entry are lower than ever. You don't even need to leave your room to try something new.
If you find something you don't like, you can just log-off; as opposed to having to endure an evening of awkward small talk or enduring the stares of shame as you try and slink away from the middle of an event.
It's never been easier to learn anything new! From calligraphy to yoga to new languages and everything in between. The big question now is around how effective online classes really are? 🤔 And if you're in the business of wanting to learn something that requires a new partner, you're also somewhat out of luck.

11. Online Education
Many students worldwide have  been forced to learn from home, attending schools and universities remotely. While this has many obvious downsides for social interaction and the many extra-curricular that come with school and university life; this may also work out well and set a new precedent for remote-learning.
Ideally this can provide added flexibility for those who enjoy studying remotely. It also provides the opportunity to open up education to those who might otherwise struggle to attend school due to travel-limitations or other-commitments such as work.
It remains to be seen though how well equipped are institutions to deal with this change of pace, both technically socially and academically.
12. Gaming 🎮
One thing that many have embraced as a form of social interaction while stuck at home has been gaming!
As seen in the massively popular Call-of-duty Warzone and Animal Crossing New Horizons. Each providing a modicum of competition and ersatz social-spaces for the modern age respectively.
13. Betting Shops
The "other" type of gaming. Gambling that pushes people to more addictive games has also seen a huge rise during quarantine.
As much as I hate to see it, gambling companies, preying on the most desperate in society are also seeing a boom in the markets. For example gambling conglomerate Flutter: "Last month, Flutter was the biggest gainer on the FTSE 100 index with shares up 36 per cent." [Financial Times]
14.  Jacob Rees Mogg
Another strangely specific entry but Jacob Rees Mogg and his fund's investments strategy into emerging markets seem to have been paying off. 💰
""Market dislocations of this magnitude happen rarely, perhaps once or twice in a generation, and have historically provided excellent entry points for investors," said Mark Asquith" - lead manager of the Somerset EM Small Cap and Somerset EM Discovery Funds.
It should, of course, be noted that he's not the only one to be making money in this situation; no matter how much the tabloids want to single him out. Nor are emerging markets the only portfolios doing well!
15. Medical Supplies
Initially there was some debate around the effectiveness of masks; comparisons between various types of masks; and concern about consumers depriving medical professionals of masks needed for their work. However one thing is for sure, demand worldwide has surged for suppliers of medical equipment.
This surge in demand isn't just for masks but also ventilators; testing kits; as well as R&D projects in the space.
16. Toilet Paper
One of the initial breakout stars of the pandemic, the one no one really saw coming. Loo roll! Instantly sold out everywhere for weeks on end. At least it's finally back in stock now…
17. Amazon + Home Delivery
Current advice warns us of the dangers of going outside, not abiding social distancing, the potential peril waiting on every corner of the outside world. Hyperbole or hysteria aside, with all this rhetoric in the air, it's no wonder people are ordering home deliveries more than ever.
Demand for home-delivery has soared from everything from groceries to flower-pots; and anything else you can think to buy; on Amazon (home retailer).
Despite potential increased delivery times even for Prime subscribers (Amazon's premium next-day delivery service), prime subscribers are still signing up in droves. The company has seen an increase of 28% on its share price since the beginning of the year. Since the beginning of the pandemic this amounts to a $24bn increase in wealth for Jeff Bezos alone! 💸
18. Netflix and Dinsey+
With the "streaming wars" building up to full steam they've never been more people sat at home bingeing. I've found it to be the perfect time to catch-up on the Mandalorian; and I absolutely loved every second of it.
For Disney this has not only proved a huge success but also helped to bolster other parts of the company, such as the theme parks, that have suffered due to the pandemic.
Netflix keeps going from strength to strength, with over 60 new original titles in July alone. Netflix has gained almost 16 million subscribers, increasing by more than 20% to 182 million!
19. Surprise Social-Media Apps
The old favourites are still going strong. Snapchat supports 16 people video-chat! Whatsapp allows up to 8 people to group call and FaceTime supports upto 32 if all your friends/family are on  !
But there's also been a slew of seemingly new incumbents into the market, trying to make it in the already crowded social-media space. Apps like Houseparty, Marco Polo, Jitsi Meet and even Facebook Messenger Rooms.
In a tough market, perhaps international quarantine can provide the conditions they need to blitz-scale!
20. The one everyone is talking about: Teleconferencing!
Slack, Zoom, Google Meet, Microsoft Teams you name it  but will it last?
Zoom has seen a huge soar in their share price, even despite numerous privacy concerns and secruity holes. Microsoft Teams have been rolling out features to match zoom, Google have upgraded Google Meet (not meat🥩), and the only one left surprisingly quiet in all this is the household name that used to be synonymous with internal-calling....Skype.
As ever the question remains as to whether it will last? We're adjusting to our new lives at-home and online, as long as we still need to talk to and communicate with other people, it seems like teleconferencing products will go from strength to strength.
With all that being said i need to wrap up quickly as i have a Zoom-class to jump onto!